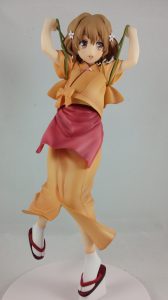 Figure information
Character: Matsumae Ohana
Origin: Hanasaku Iroha
Maker: Alter
Scale: 1/8
MyFigureCollection: Direct Link
Amazon: Direct Link
Who's that waifu?!
---
Ohana graces us from Hanasaku Iroha and, before I begin, I just want to say I love this anime. So much. It's definitely one I feel deserves a 10/10. I went in with zero expectations and was completely floored by the quality. It starts off very slice of life with a little bit of comedy here and there, but it quickly turns slice my life by the end of the first episode, zero to Korean drama real quick. The remaining 25 episodes do not drop off one bit; the pacing, music, character development, back stories, animation, and everything else pulls you in deeper each episode until you're so emotionally invested that the ending and movie completely overwhelms you in bittersweet perfection.
Ohana starts off as a normal school girl. You know, taking care of her mother, going to class, and being oblivious to boy best friend's feelings, the usual. She's easygoing and carefree, willingly accepting a dull, but secure future the city life offers her. A twist of fate sends her to the grand stage of the anime, the Kissuisō, an inn owned by her grandmother. Here, she, along with the rest of the cast, interact, react, and grow together. Within the Kissuisō, Ohana is strong-willed and will act on what she believes is right, often leading her into confrontations with other characters. I enjoyed watching her mature throughout the anime.
Both openings are exceptional. Opening 1: Hana no Iro and Opening 2: Omokage Warp, both by nano.RIPE, just make you feel good and inspired. Maybe it's because I usually listen to these at work and anything outside of straight working just makes me feel good and inspired, but anyways, it's good stuff. Looking around online, it seems people either love the openings or hate everything about them so give it a listen and decide for yourself. This figure looks to be influenced by this specific scene in Opening 1: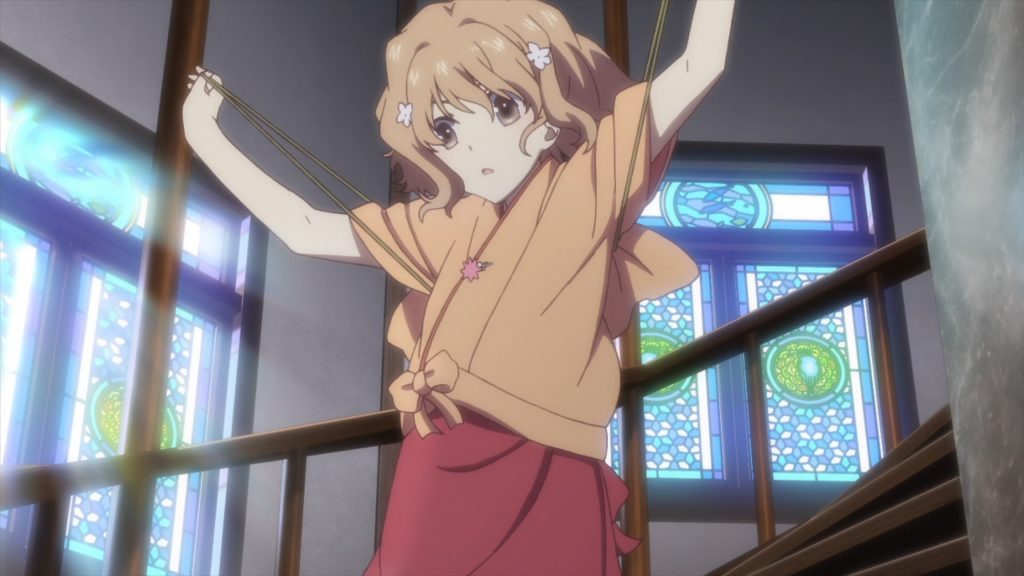 Ohana runs down the stairs, snaps her tasuki in place, the chorus hits, and the whole inn is scrambling to fulfill their responsibilities. This 10 second sequence is my favorite in the whole opening, even more so, Ohana's stair section. For Alter to make a figure of this moment is an instant purchase in my book.
The box
---
Look at the windows on this box. I love this box, I think it strikes the perfect balance between window and box presentation. The windows are small enough that the box still plays a major role in the presentation, integrating the windows into the box art through framing. The flower design across all sides might be a little overused, but I can understand it. Not only is the design on Ohana's hairpins and series title, but it's also very prominent in the promotional videos for the anime. You're not overwhelmed with pictures of the figure all over the box, just two angled front and back pictures. The shadow effect is noticeable and complementary. I think this is a good choice as too many pictures can make the box like an advertisement rather than an extension to the opening process as a whole.
The base
---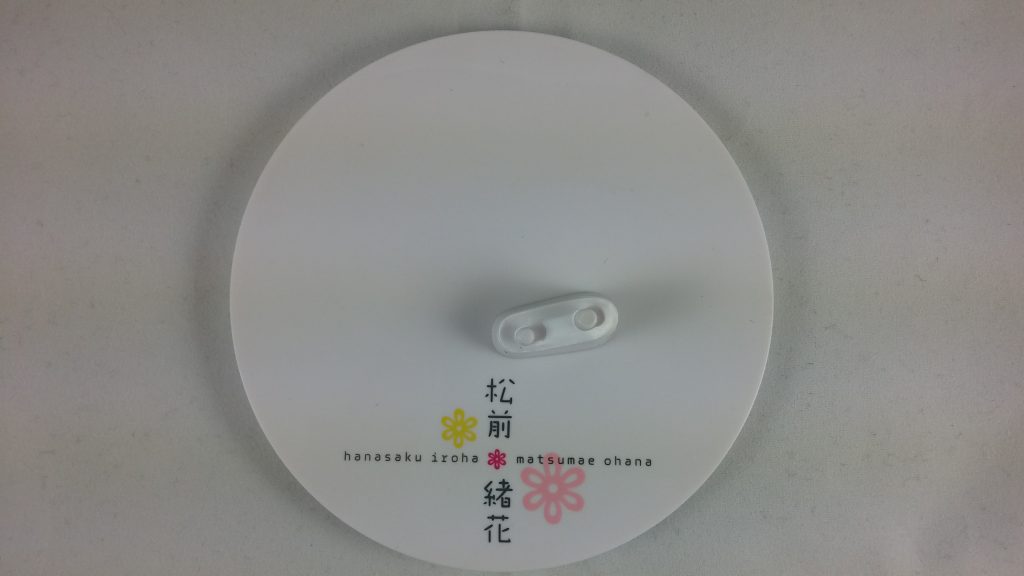 Just a plain white circular base with the character name and series title. I like the use of the flower design here.
Fine print
---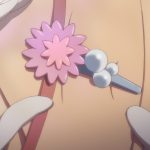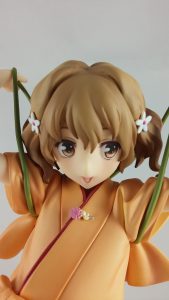 You can see Alter did make an attempt on the pin. The layers on the pinkish portion and the separate beads next to it, but it didn't come out as detailed. Although, I don't think the pin ever got this kind of focus ever again in the anime. It's definitely not great up close, but from afar, like in much of the anime, it doesn't look too bad.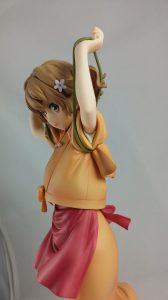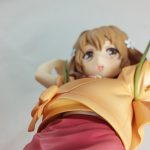 On the other hand, the attention to detail on the white robe here is much appreciated. This is something I didn't really notice when watching the anime. I love it when a figure includes something I never really noticed or paid attention to from the source, makes me appreciate the figure that much more.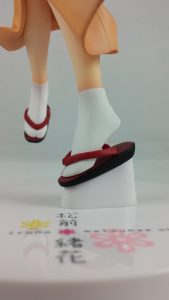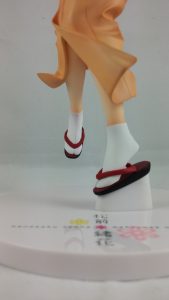 Close up on the sandals. They're well made. You can feel the indent on the feet. I'm a little bummed about the smudge, but you don't really notice unless you're looking for it. The connection between the figure and the base is probably as solid as it can get based off the sculpt. Much of the weight and holding power is concentrated on the front peg where the toes are and the heel peg is support. When the figure is moved or turned you can see the vibration transfer to the upper body. I'm not sure how this would influence displaying the figure long term so I'll have to wait and see on that end.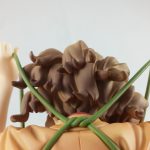 Close up on the hair ends and tasuki. The hair ends are well done and captures Ohana's messy style, strands are defined and detailed. I had no idea the rope thing is called a tasuki until I did some research because I got curious. It's purpose is to hold the sleeves of the yukata/kimono. Which totally makes sense since the sleeves are so long and the girls have so much work to do. Ugh, they work so hard. I love them all. You can slip the rope off her hands as well, you kind of need to in order to get the protective plastic off when opening the figure.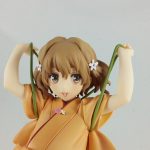 You can see how the tasuki digs into the sleeves to hold them in place. Ohana is having a great hair day, just really nice well defined sculpt, definitely scale figure quality. Flower hairpins match up to the source material, not much more you can expand or further detail there. The best part is Ohana's face. It's awesome, looks just like her and I love the expression. Her eyes are beautiful and super detailed and her mouth isn't screwed up like some other scales who would otherwise be perfect if not for the weird mouth, but that's for another review.
360 View
---
Verdict?!
---
I pretty stated from the beginning, this figure is a must have for me. My favorite part of the Opening 1 brought to life and Alter did a great job. Ohana looks spectacular and 100% worth it. If you're a fan of the series, there is no other official 1/8 scales and under other than this Ohana. However, from the beach queen series, you do get a 1/10 scale of each of the four girls: Ohana, Nako, Minko, and Yuina, in their totally canon swimsuits from that one beach episode. The only other remaining Ohana figure would be her Nendoroid, which looks really cute and packed with extras. Out of these options for Ohana, I would definitely at least pick up this 1/8 scale by Alter and probably the Nendoroid in the future on lower priority.
Price watch
---
My original purchase price was $84.12 total a couple of month's ago. I saw it was cheaper on one of the sellers on MyFigureCollection, but I had a good amount of remaining balance on my Amazon gift card so I just decided to use that. As of 08/03/2017, Amazon is listed at $71.90 total for a couple of high rated Japanese sellers. From the four available sellers on MyFigureCollection. cheapest is $77.27 total including shipping. Unavailable on Amiami and, from my quick search, cannot find one available on Mandarake in new figure/damaged box condition. Best choice right now appears to be Amazon, but if you are not in a rush, you can keep an eye out on all other sellers for price drops.