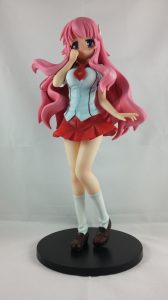 Figure Information
Character: Himeji Mizuki
Origin: Baka to Test to Shoukanjuu
Maker: Daiki Kogyo
Scale: 1/6
MyFigureCollection: Direct Link
Amazon: Direct Link
Who's that waifu?!
---
Himeji Mizuki is the most broken character in Baka and Test. Not only is she the cutest character to ever grace the Fumizuki Academy, she is also one of the strongest fighters in the academy's battle system. Like, how are you both best girl and Goku? What about all the other characters? What do they get? They get to be the background extras for queen Himeji. This series should be called Baka and Himeji as Akihisa is too stupid to understand all these hints being dropped on his forehead.
Himeji is one of the main love interests, out of two, in the series. She starts off as the quiet, good natured, moe girl in class, always flustered when her feelings become the topic of interest. Later on, Himeji becomes more outspoken and brazen in articulating her feelings to Akihisa. At the same time, she becomes visibly upset when she feels Akihisa is showing interests in other girls. Zero to yandere real quick, always quick to punish Akihisa before he gets a chance to explain. It's so cute the way her eyes turn blank and an eerie aura surrounds her.
Her cooking is absolutely terrible. She might be on the same level as Elsie, although more victims fall to Himeji's cooking. Her food looks normal, even tricked the rest of the characters at first, but tastes like death. It's become a running gag for the male characters to incapacitate each other with Himeji's cooking.
She's also an alcohol lightweight. In my opinion, the funniest episode involved Himeji, playing cards, and liquor candy. Those who haven't seen the episode should totally watch the series. It's so funny and Himeji is just adorable all the way through.
The Box
---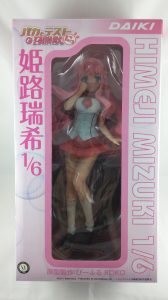 This is the front side of Himeji's box. It's kind of an odd shape compared to other scale figures. Normally, there's ample spacing between the box and the actual figure. This Daiki Kogyo box barely leaves any space between the figure and the outer box. Due to no extra windows and compact spacing, you care barely see the stand behind the legs in this picture. Every piece of information is crammed into the sides; manufacturer, origin, name, scale size, and authenticity sticker. It'll probably hard to spot out inside a figure store due to its design.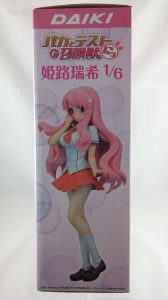 The right side displays Himeji in full, top to bottom.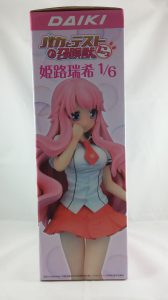 Left side zooms in and shows Himeji from a different angle.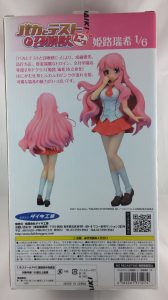 Back of the box shows two more images and includes a lot of Japanese writing usually reserved to the bottom of the box. I'm guessing due to the compactness of this box, they were forced to put that information on the back. Overall, this is a very forgettable box. Himeji is shown multiple times to take up space. It doesn't really add much to the figure experience, might even be a net minus due to the crampiness and overall aesthetics.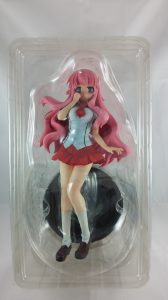 This figurine is pretty simple, just the figurine and the generic black base behind her. The official pictures show a wooden base, but I guess the actual shipped figures only come with a basic black base.
The Fine Print
---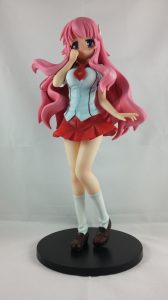 Here, Himeji is all set up and looking adorable. Did I mention she is 1/6 scale? She is the size of a murder weapon. Like You're about to win a game of Clue, "Mrs. Peacock, in the kitchen, with the Himeji." You would be totally right too. I wouldn't trust any of those suspects with a Himeji.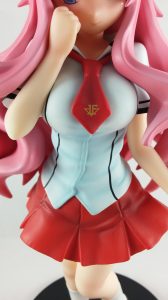 I think the letter F on her tie corresponds to their classroom, 2-F, also represents the classroom rank in the academy.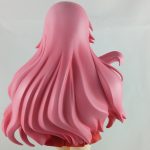 Her hair is heavy duty. You can really feel the weight difference between this 1/6 scale and some of my other 1/8 scales. The hair feels like reinforced PVC, some solid pink hair right there.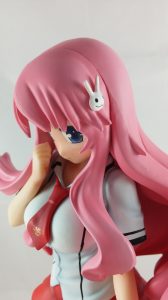 Close up on the blemishes in her hair. For a scale figure, I do expect more defined hair and much less imperfections. Her front bangs are in between other normal scales and prize figures.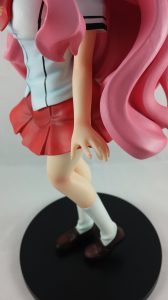 Himeji's painted nails =3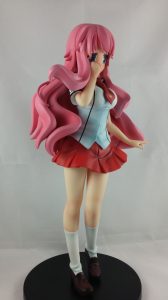 Himeji from another angle. I feel like you have a couple of choices with displaying her. It's not just straight face forward. A little to the left or right would put more emphasis on her shy expression instead of her physical features.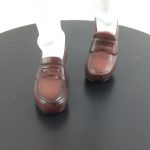 Staple schoolgirl I'm-late-for-school shoes.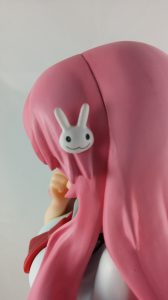 I love Himeji's rabbit clip in the anime series because it's often as animated as Himeji, mimicking her expressions. They did a pretty okay job here, not amazing, but not bad either.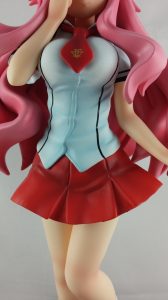 The school outfit looks pretty acceptable, the sculpt and paint are really close to the source material. The colors are separate and no leaks from one part to the next. However, if you look closely, you can see small blemishes here and there on the whole outfit. Nothing too noticeable, but definitely loses some quality points.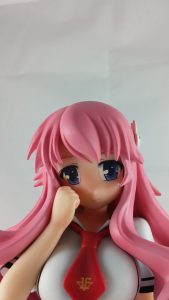 Closeup on Himeji's face. You can tell she looks pretty close to source material, but I can't shake the feeling there's something off. In the anime, Himeji does have pretty big eyes, but her varied expressions bring focus to her whole face, making everything look more balanced. I think, compared to the rest of her face, her eyes are a little too big. If she had a different expression, it might be better.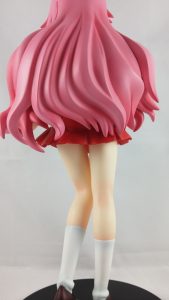 Closer look at Himeji's legs. They look okay, black of her knees are not really defined, just a slight shift in color.
Verdict?!
---
The good thing about this figurine is the scale and you can feel the sheer amount of PVC put into it. This figure is an alright representation of Himeji and I'm pretty happy with my purchase. I mean, I picked her up for $40.80 USD total on Amazon so I can't really complain. You can really feel the weight of the PVC when you pick this figurine up. However, there are two other Himeji scale figures out there and they are arguably better than this one. The other two scales both comes with a mini shoukanjuu of Himeji and they're adorable like nendoroid petits. The one by Penguin Parade is probably the best in terms of quality and pose. I have both and I plan to display them together someday. This Daiki Kogyo figurine is not bad, but probably not a must buy. If you really want a Himeji scale, I would definitely go for the Penguin Parade one first then the Chara-Ani, and lastly this one for completionist if you want to have all the official released Himeji scales.
As of 07/30/2017, I see Himeji listed at $90.20 total on Amazon and upper $70.00s prior to shipping costs around vendor postings in myfigurecollection. I would not recommend this figure at this time. That is definitely too pricey for the amount of imperfections you get from this figure. It might be arguable if this is the only ever released Himeji scale, but that is not the case here. Maybe if she drops back to around the price I purchased at, you can think about it. Currently, the other two, better figures in my option, are cheaper so check those out first for your first Himeji.